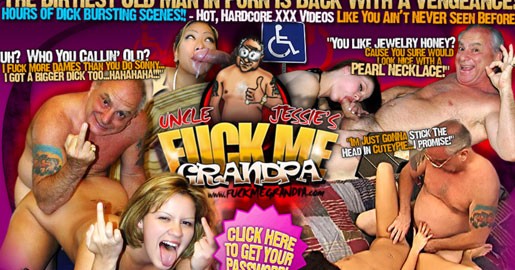 Never heard about Fuck Me Grandpa?
Introduction
Hello fellow porn viewers! Have I got a treat for you! You might be thinking "why the hell am I reading an article review about some old guy fucking girls?" That my friend is what I'm here for. This may come out strange for some viewers, but this website Fuck Me Grandpa is actually getting more popular and popular. Why do you ask? Because it's new, unique and fucking weird! People love weird these days! But that's not all. Other than that, the acting and the set up on the porn you'll see on this site is very realistic.
Very well-made to make you think, is this even acting? The moans and screams of the scenes you'll see here sound very authentic. Also, the way Uncle Jessie (the main male porn star old dude on the site) fucks these girls? You won't even realize he's an old dude! But the fact that he's old and the girls still not that old is why this site is very popular. People today wants to venture on new terrain, try new things, explore new possibilities of satisfaction! So why not give this site a try! Who know? When you get old, you might just try this one day. Who ever said you can't teach old dogs new tricks right? So hop on in on my article review on Fuck Me Grandpa!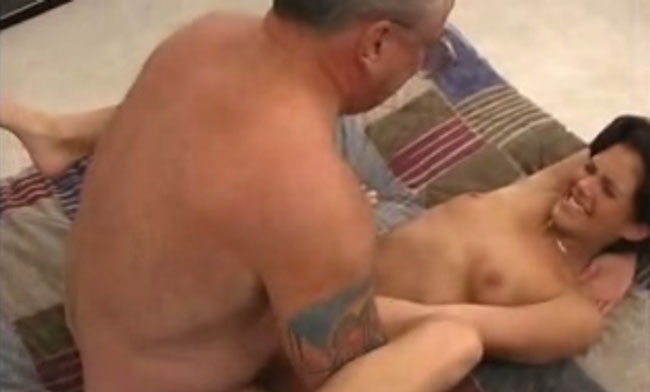 A look at the content
Right after I hit enter… BOOM! You might find this hard to believe, but the website's design is actually quite impressive! Especially the main picture in front, it shows a big collage of the sex scenes this guy's been doing to these beautiful naked ladies. But also take not, these aren't old ladies or older adult type of ladies. No, no, no! These ladies are still far from being old, and seeing them fucking this old dude is like WTF! I don't know about you but the heat is cranking up just watching them do it! These girls are amazing! But we'll talk about the girls later. I want to talk a little bit about the site's logo. The logo is the kind of image you'd see before you enter a comfort room.
You see that handicap logo of a man sitting on a wheel chair! Man this is kind of a challenge right? It's like this old dude telling us guys "I'm old so what?" me likely his style. Now if you scroll down a bit you will notice an array of trailers! Yup, this site contains trailers for non-members. This means this site is so confident about itself, that it's not afraid to show off what it's made of to non-members, and you know what? Their right… I tried playing one of their videos, and oh my freaking dude… it made me wanna grab my wallet and become a member! These stuff are hot!! No holding back whatsoever! Another thing I've noticed is that it has titles for each video and trailers. The titles are quite catchy too! All in all, this site's design is very well developed!
Video and stars
Now I know what you're thinking. No girl would possibly like to be a part of this site. But you know what? YOU ARE DEAD WRONG! Not only are there girls signing up for this site, but the girls in this site are so damn beautiful! The kind of beauty that has that nasty tiger look in their eyes! Don't even get me started with their bodies. They really got the curves and ovals that could surely pull your eyes out! I also observed on one of their videos, the camera focused its angle on one of the girl's pussy. Their pussies are so freaking tight man! You could even have them mistaken for a virgin! And once the old man's penis is to be drilled inside these hot sexy girls, they really moan or sometimes scream once it's in! I don't know about you but they sound really real!
As if they're fucking for the first time in their lives! Where did they get these ladies? Now let me give you the statistics of this amazing site. It has a number of 100,000+ high-quality photos. Fully downloadable without limits. It also has 500+ Gigabytes of high-quality video clips! Also available in WMV and FLV formats! If you're not that techy, 500+Gb is A LOT OF VIDEOS MY FRIEND! But that's not all! You also get 360+ additional Gigabytes of bonus video feeds, photos, and cams! To top it all off, you get 100% full access to all XXX network of porn sites! No more hunting and paying for any other sites anymore! It's all in the house my friend! I don't know what else to say about the girls and the videos! Let's head over to the last paragraph and rate this thing.
Final thoughts
Here we are at the end of my review. Now what could I say about this jewel in the sea? Simple…. For me, personally, I think this is the best damn site yet. I mean, not only are the videos and girls great and addictive, it's also in high quality! Plus the added bonus of freebies and an old fucking pro-drilling these ladies is pretty satisfying don't yah think? The huge amount of videos this site has to offer is actually more than enough to satisfy you every night. But if you're still worried, why not try head over to the site RIGHT NOW and just take a moment to click those trailers.
I mean, just take a look at those trailers. You'll actually find yourself mentally drooling for more! Cross my dick dude, this thing is the bomb of all nuclear out there. So if I were to rate this site out of 100? I'd give it a freaking 999%, nothing less. I've been to a lot of porn sites lately but nothing really gripped my imaginations and fantasies as much as this site has.

---
Read more…
| | | | |
| --- | --- | --- | --- |
| | | | |
| Trial | $1.98 | $1.98 |  N/A |
| Monthly | $29.95 | $29.95 |  N/A |
| Yearly | N/A | $59.95 –  $4.99/Mo. |  N/A |
| | | | |