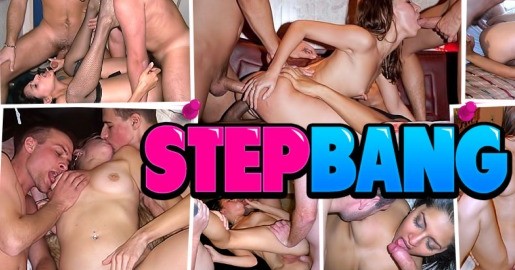 Never heard about Step Bang?
Introduction
Step Bang is with an interesting catch. It's about half-taboo sex temptations. Sex is spontaneous. What can one do when they are fresh and bubbling with sex energy while the hot sexy step mother sits by in hot titillating clothes, and sometimes behaving suggestively? The adorable girls and boys in the scenes on Step Bang simply respond to the natural urges and do what you would do in similar circumstances. Did someone say sweet as taboo! Step in here and get to view how this step this and step that can be the basis for the most exciting sex encounters.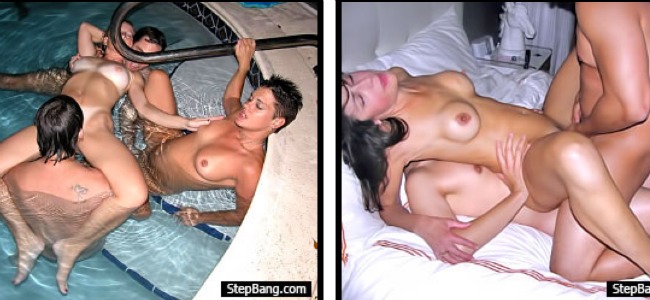 A look at the content
Step Bang sports light attractive colors in the background. There is a blend that spreads across the pages but pink seems to overshadow other color mixes. The site teems with fersh and MILF attractive models. There is a great sense of organization although what I saw on the home page looked a little cluttered. I, however, discovered that there in the clutter, were many ways to get around and enjoy want I wanted. The home page is filled with tagged captions that lead to the actual movies when you click on them. There are several other links that help you access various videos available on Step Bang. Step Bang is a member of the Ex Gf Pass Network.
Therefore, once you subscribe to any of their plans, you automatically gain access to over 15 sites under the ex Gf Network. I loved the content presented on Milf Uploads, Ex gf and Ex Gf Pass. Step Bang is optimally designed and tweaked for access from PC, mobile phone and Tablet. I could check out the content at will whenever I got a little chance off my mundane work schedule. The loading speed is great. You are treated to a variety of content right on the site and the bonus sites that complement the content offered. The videos come in high quality. All the content can be downloaded and streamed as the user wills. There is no limit to the number of videos you can stream or download. There is even a zip file availed to organize your downloaded content.
Video and stars
The sex scenes on Step Bang are thrilling sex encounters between relations. There is an obsession with step this and step that. Well, I guess, the user doesn't care much so long as the performance can turn them on. The taboo concept has been the reason for incest. Hey, wait a little. Do you consider fucking your step sister taboo or incest!. Well, I don't. so I have fun on Step Bang watching girls get screwed by their step dad. Sisters sucking the cocks of their step bros mothers fucking their step sons, step dads tasting the cherries of their hot, sexy and attractive step daughters. All it takes in most cases is a lead from step this or that. Add some liquor and a party mood into the works and end up with steamy group orgies featuring the step sisters, step brothers, step moms, step fathers and more steps get down in erotic adventures fucking in threesomes and pairs.
The hotties seem to love the drilling effects of the cocks of the "steps". The step dads are erotically sucked by their step daughters until they cum There are hundreds of videos available on the site. The videos have a varying playback length. They are, mostly, submitted by naughty models and dudes who take clear shots of the naughty encounters they find themselves in, and post them to buyers. There are many images to sample on the site too.
Final thoughts
There is sufficient content for your enjoyment on Step Bang. The models and dudes are captured in a variety of sex scenes as they suck cocks or fuck with their step moms and step sisters. There is an impressive update schedule for fresh content too.
"The site is no longer updated, check out the best taboo pay porn sites."