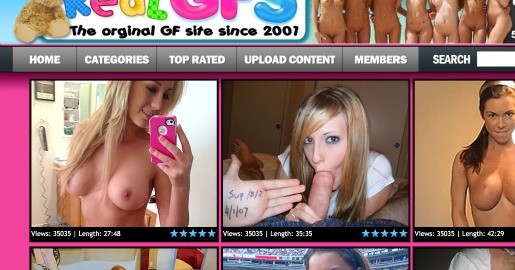 Never heard about Real Gfs?
Introduction
Realgfs is an adult entertainment site that features girlfriends whose boyfriends love to see them get down and dirty. It is filled with beautiful models from across the globe. It's a naughty site that has the real thoughts of sexually active people brought to life in sizzling sex encounters as the hotties hook up with dudes and fuck their way to erotic seizures.
A look at the content
The site is wrapped in dark grey and a couple of other colors. It looks great; although I would say their home page is a little clattered. On the other hand it may be the very strategy that works to entice visitors to subscribe by presenting a variety of sample scenes at a glance. The site has pretty impressive navigation tools that made my visit a fan-filled one. There are tagged caption from real scenes. It is from these postings that I quickly checked out my favorite videos and girls. I could stream the videos with lots of ease directly from their site. I also downloaded a few of them to my mobile phone. Indeed the site has been fully optimized for mobile access. One of the greatest advantages of visiting this site is that once you subscribe, you are privy to original amateur content. They update their content on daily basis. I have not even exhausted checking out all content but I think I'm bound to stay for a little longer on the platform. The content, the variety and the quality are real temptations. It makes sense to me a lot more because I don't have to spend extra to access a variety of porn entertainment. In terms of design, layout and presentation of content, I must give them a thumbs up. Although they do not feature any elaborate search tool, they have made it easy to sample their content with the alternatives that have been provided.
Video and stars
I love the collection of the cuties on this site. There is sufficient supply of youthful hot models that have enough energy to last hours of sex activity. These gorgeous and seriously attractive women have a knack for the dramatic sexual acts. They engage in sensual activity that leaves you warming under your belt. There is a great variety of content that involves the girls in naughty acts with dudes screwing their asses. There are many hardcore scenes involving the hotties sucking dicks and being pounded hard and deep by muscular and energetic men with monster dicks. If you have a fetish for cum, you are treated to a party of cum as the girls are experts of milking cum from the dudes' dicks. The site appeals to a wide orange as it presents these cuties from across the world community. If you love your models black, sturdy and youthful, you have pretty hotties waiting to titillate you to uncontrollable ecstasy. If you like them Asian, you will be treated to some of the most exciting and beautiful pool of Asian girls in interracial sex scenes that leave you gasping for breath and yearning for more There is, therefore, sufficient content to savor here. There are over 200 movies to sample. Each of them plays for an average of 4 minutes. There is no limit to the number of downloads you can make. The files come in, MPEG, Flash Player and WMV. If you love your porn in still photos, you can visit over 3 galleries with 0ver 70 pics per set.
Final thoughts
Realgfs presents users with great quality content that comes at a reasonable price too. The fact that they have lots of variety of content adds value to your subscription because you get to enjoy lots of entertainment. I love the way they try to stick to their theme and splash your screen with lots of variety.
This website isn't updated anymore, take a look at more porn reviews.