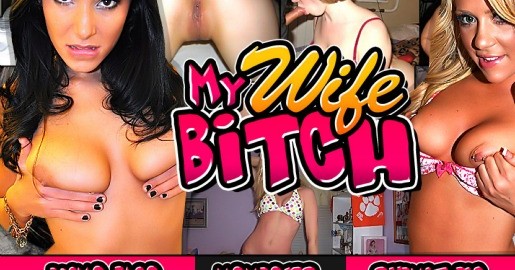 Never heard about My Wife Bitch?
Introduction
My Wife Bitch is an adult entertainment site with a special focus on real wives in steamy sex action on camera. The site presents lots of hardcore action and a variety of sex acts that include bareback bisexual and lesbian sex scenes. The amateur women featured are gorgeous and look natural in their sexual pursuits. If you would like to savor the naughtiness of mature women in the act, this is a site you might want to visit often.
A look at the content
The site is draped in a combination of colors including black and pink. The home page is filled with tagged captions of the hotties in various sex acts. Although I felt a little overwhelmed by the number of captions on the home page but I guess it is because of the long list of captions that I was easily convinced to subscribe. The scenes are spread out in small box frames across the whole of the landing page. There is no search tool but there are several options to aid your tour around the site. There are several animated captions that feature the cuties in nude poses and sizzling acts. The site allows users and the general public to submit their amateur videos. The categories list includes a section where you can upload your own version of wife-bitch videos. This is an indication of the originality of the content on the site. The site is also accessible via mobile phone. There is a bonus site on offer under your subscription to this site. I could sample content on Ex Girlfriend Pass. I loved the quality of streaming too. The video scenes are said to be exclusive. However, given that they are offered by independent parties, it is hard to tell where else they could have been sold.
Video and stars
The women are pretty sexy and hot here. You will be thrilled by how creative and daring these amateur women undresses and get down with dudes and fellow women. You have a wide range of beauties to choose from. There are blondes, brunettes and even black cuties seeking something extra in adventurous encounters that ensue. There is no shortage of sex action on this site. I loved the lesbian and sex toy play. The girls show you how to touch and caress with tenderness. You will be excited at how the amateur wife bitches give pornstars a run for their money. Although some of the models are milf types with a touch of maturity, they are downright assertive and adventurous in the sex scenes. Some women can be seen drilling their pussies with sex toys while others are captured in sex orgies as they suck cum on one end and get rammed by dudes from the other. You get the full range of sex adventures and experiments here. There is sufficient content to savor on the platform. I loved the quality of videos despite the fact that they are all real amateur sex shots done by the characters in their private settings. The images and movies make you feel as if you are right in your bedroom and taking part in the action. The usual distance between the porn viewer and the performance is greatly reduced in these scenes that look so close to home. There are over 500 videos to savor here. Each of the videos plays for an average of 5 minutes. The files are made in MP4 and WMV formats. You could also settle for the beautiful pics on over 185 galleries. Each of the sets contains 35 photos. There is no download limit.
Final thoughts
This site has no updates, read more MILF porn sites reviews!