Never heard about Prime BBW?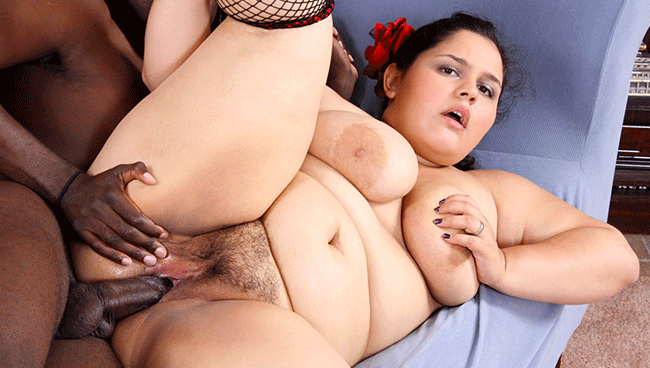 Introduction
Who says that plus sized women couldn't give mind blowing sex? This website focuses on plus sized women giving pleasure to men using the inordinately sized tits and asses. It features women in their day to day lives being banged by different guys. For men, this is getting unusually satisfying sex from women who are not the usual sex goddesses. While it is ordinary to fantasize on women with perfect figure, this website entices a different kind of lust. Though the experience of having sex with plus sized women may sound a little different to see in porn sites, these women can't be out leveled in the hotness department.
Much like any other website, PrimeBBW features women's use of their tongue and pretty pussy with an extra twist and weight of course. Image a woman with extra weight doing a doggy with a well-toned guy. There are black women eating cocks of white men and who said the white man did not enjoy it. I doubt that he did not enjoy it obviously because plus sized women has bigger mouth and equally playful tongue. These and many more are what the website has to offer.
A look at the content
When you open the website, you will be filled with videos showing different sex positions right away. The videos are strategically arranged in rows and columns to offer visitors look to a wide range of videos without even clicking anything yet. In the home page alone, you'll already know what is being offered in the entire website. You don't have to be clicking on tabs for categories anymore just to see what the website has to offer. The different categories have a video in the home page representing them. From left to right you'd see the differences of the videos. One video shows lesbian couples making out, then the next one shows interracial couples, then a somewhat home made video with a story.
Pretty much what you could see in other websites is available here as well. What is catchy for this website is that you don't have to look for it anymore, it is readily available in the home page. Soon as you click on it, it will lead you to more videos of the same type. The website is also accessible to all. There is an option for you to use free access to existing videos. For free, a man watching this website can already get a boner. There is also an option to pay an extra buck to view live sex or chat with an available woman. If someone actually falls in love with this website, he / she can always become a member. Much like any other website, you can also be a member of this website, which could give you easier access to our hot girls. Also, should anyone feel the need to share their experience to friends or maybe partners so they could feel the urge as well, it is very easy to share the videos in social media like Facebook and Twitter.
The videos can be downloaded too. In just a few clicks, a viewer can already have access to extra women doing something unexpected of them. This type of website has a very limited niche market. We all know that lust and fantasies are usually pointed to women of perfect shape. There's no denying that only a few people would even fantasize having sex with women with extra baggage. However the not perfectly toned tummies, the fluffy arms and legs, the big boobs, they can also be a huge plus. For those few men that has the fantasies for those plus size women, this website is going to a buffet with just very few people. There're just too many tits and pussies to choose from. There're just so many videos that could catch anyone's fancy.
Video and stars
It can be that women with the extra pounds can be very ashamed to show off their skin. Most often than not, it is difficult to shed of some clothes in public places. Sometimes, having the extra fats can even lose one's confidence in having sex even with permanent partners, but the women in this website know no shame. Assessing how they do blow job, and how their pussy squirts, these women know the magic of making themselves the new sex goddesses.
The confidence oozing in the women in the videos are their way of making a statement. Move over girls with coca-cola bods, they are the new fantasies for men. There is also a wide array of women featured here. Videos differ, from licking brunettes to interracial couples to lesbians, black women and a lot more. Needless to say that this is still a niche market as of now but the girls in this website who does their thing lustfully and with so much conviction can contribute a lot to the success and growth of their website.
Final thoughts
This website is a breathe of fresh air in the pornography industry. Now, we do not just see women with perfectly shaped boobs and tits banged a million ways. This website offers a genre that may have not been really looked into before. Porn sites usually feature model like women in their films and there're a lot of competitors out there that do the same thing. Plus size women are usually just one of their categories, which usually gets minimal views. PrimeBBW is sending a very strong message.
Plus sized women should not just hide in the closet and keep their pussies untouched. Men with big cocks are looking for women with deep pussies, which are usually available in plus sized women. Sexy can be in many forms and sizes. Men also know that. This website is a very good idea. It can be benefitting both for plump women who may have lost their urge to have sex because of their size and for men who love websites that offer these types of videos.
"This site is no longer updated, you can choose another one in the selection of the best BBW pay porn sites."