Never heard about the HandjobHelpers?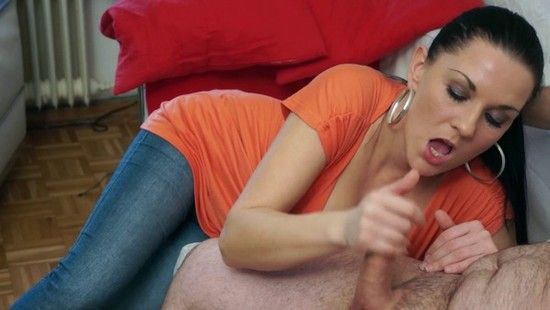 Introduction
On the HandjobHelpers, only kinky and hard hand jobs are featured. You are going to enjoy these videos, especially if you are into hand jobs. This porn site has been around for a while, and it looks like it has some recent updates too. As far as the history of the HandjobHelpers is concerned, we were able to find out that it has been online for more than 10 years: it launched back in 2006. Though the overall design makes it look older… So, the videos of the HandjobHelpers are coming from Germany, and they usually originate from different porn DVDs.
This means, the content is not exclusive, and you might run into these videos in offline and online DVD stores. So, here you are going to gain access to hand job videos with fem-dom elements and some other kinky niches, though these scenes are not unique to the site. Well, that's just one thing. One of the best features of the HandjobHelpers is that the members' area is advertisement free, there are no Flash banners, video ads and other ads in there, so you won't get distracted. It's not easy to decide if the site is still updating, or the dates of the videos are not real.
We have seen new scenes added every now and then (about 2 flicks per month), but the videos are actually quite old-looking. As a kind of bonus, you can access a video on demand service by the way, which gives you the option to download clips and full videos on a pay per video basis. Fortunately, many videos are in HD, and the company that runs this site has some Full-HD porn for your entertainment too.
A look at the content
As you open the HandjobHelpers, you will see a gray, and a kind of boring site. This isn't an updated portal, if it was, the videos would be listed in the nowadays popular tube sites. Instead of that, however, you have to scroll your ass off as you scroll down the page to find only description, and some not too great thumbnails. Preview videos are not granted, you have to rely on our review, and on the thumbnails. If you decide to join, after you do, you land on a simple page. It will be quite similar to the tour. One of the most important things you will notice too, is the complete lack of advanced navigation.
And by advanced, we mean basic: no search box, no categories or niche tags. You get a list of the videos, and that's it, you can start browsing the content page after page. There is no streaming video on the HandjobHelpers. This could be an issue for many guys, but we didn't really concern ourselves with this because we are not into streaming. WMV video files are downloadable, and only in the highest possible quality: HD or a high-end 480p for the older videos. There are no photos on the site, only a few video captions are featured.
Video and stars
The girls on the HandjobHelpers are gorgeous German ladies who like to do kinky stuff. These women are quite helpful, but only up to a point. Actually, the site features some nasty and mean orgasms destroying action. You are going to find here only professionals, who seem to enjoy their job, and they are happy because they finally have the chance to take their revenge on these guys. Since the content of this site comes from Europe, the models are almost all Caucasians. They are all naturals, and to be honest, some of them could be considered as average looking.
These ladies will get you in the mood for a good hand job, and the fact that they don't go full naked will certainly make you curious and horny. We are quite sure that most of the models on this site are professionals, and they have been in the porn industry for quite some time. Every model of the HandjobHelpers speaks in German, and since there are no subtitles, you won't be able to understand a word they say. A few videos feature English, but that's on the rare end on this site. Nevertheless, you get to watch here some hot chicks, which are doing some pretty juicy and hard things with their partner.
Well, that's not exactly true either, because the videos here are could be considered as semi-professional at the best. The models usually wear some make up, but their clothes and overall outfits are rather average. The action in the videos at the HandjobHelpers is pretty exciting. There are some who could think that hand jobs are not too exciting, but when there is some CBT, orgasm "canceling", and then a simple hand job really becomes something much juicier.
When you join this website, you are going to find a source for juicy porn, and though the collection isn't exclusive, the videos are worth watching. In case you are in need for some somewhat weird porn, you are at the right place. Since these videos are coming from Europe, you are going to love the hot hand jobs and really great explosions here. As you will find out, the scenes are not the best in quality, but they are satisfying, and the high level of kinkiness makes them really satisfying.
Final thoughts
On the HandjobHelpers, you can see how mean girls can be. In these videos, there is a lot of cock-shaking, but sometimes the climax is delayed, which causes some bad feelings for the guys. Actually, sometimes we felt bad for the dudes because the girls even do some CBT too, and that's actually quite nasty. It looks like the site still updates, though, in our opinion, the most important thing they should do is to build or license a better build, so there could be streaming, and some advanced navigation options too. But, until that, the site is still a worthwhile addition to those who like hand jobs.
"The site is no longer updated, please have a look at the best various pay porn sites."