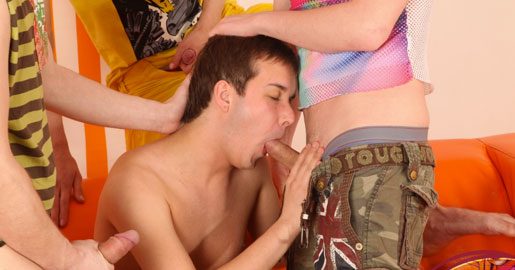 Never heard about BangedBoys?
Introduction
When twinks, emos, and bareback studs come together to present hot and thrilling gay fun on a single website, then you know you are in for the ride of your life. These lads featured on BangedBoys clearly take the enjoyment and pleasures of watching gay guys fuck each other to another level entirely. Indeed, the freshness, rawness, and sweetness of the videos stacked on this site is incredible, awesome, and unbelievable. No other gay porn site comes even close to the allure, the passion, and pleasure one would find here. It is the site other sites look at to move on with the times. These studs are spectacular when it comes to using their assholes and cocks as tools to dazzle and mesmerize their audience. Though amateur, they offer even more fun and spectacular sex scenes than their professional gay actors' counterparts. And this makes all the difference; while the latter would act out a script and dramatize sex, our twinks and bareback lads of BangedBoys engage in the action for real. They actually love what they do and put all efforts to entertain the users at the highest level. Indoor anal banging has never been this intense and thrilling; it is the height of male on male hardcore fucking like never seen before. Whether it's solo masturbation with oil, dildo fucking of the most erotic male toys, hot threesome banging, or even the most erotic gang bangs that would make you jerk off with energy and vigor, BangedBoys has got more than you can handle.
It is a site filled with nothing but the very best hardcore amateur anal fucking; that is a fact! It's the freshness of their skins, the beauty in their faces, the tattoos, the piercing, the smooth cocks, the tight assholes, and the simplicity we find in these guys that make them truly special. No big muscles, no hairy bears, and no fat dads; just lovely and simple lads as we see them every day on our streets. Be that as it may, the guys of BangedBoys stand out in every ramification; they are bold, talented, and super creative when it comes to using the cock and asshole to make sweet love. For these guys, there is no fun in fucking wet and slimy vaginas, there is no fun in sucking huge boobs, and there sure is no fun in wasting time with damsels shrieking and moaning uncontrollably. These dudes prefer the strong arms and tight asshole of a fellow stud; they prefer the romantic and erotic fun during ass licking; indeed, it is the thrill of being gay that makes them even more bonded and sweet to watch. Nothing beats these bareback lads and twinks of BangedBoys. And with a solid website behind them, a great team of cameramen, editors, lights people, and other technical professionals working behind the scene to make these videos special, you can go home rest assured that nothing but the greatest porn videos would be produced at the end. All of these are presented in a world class, state of the art website that is simply beautiful to look at, simple to navigate through, and lovely to use, all round.
In the end, BangedBoys remains the go-to site for all those who love the allure and sweetness of amateur fucking, the originality in the scenes, the authentic nature of their fuck shows, and the dazzling sex stunts they offer. It is a site that is beyond words; a site that demands viewing and using for one to truly appreciate the volume of work, ingenuity, and creativeness that has been put into it. No doubt, when you put a group of guys that are fully motivated, highly talented, and ready to storm the adult entertainment world with so much energy, the result is what BangedBoys offers – thrilling and spectacular sex shows, again and again. This site rocks; it is the definition, the long and short of bareback gay fucking; it is the bomb!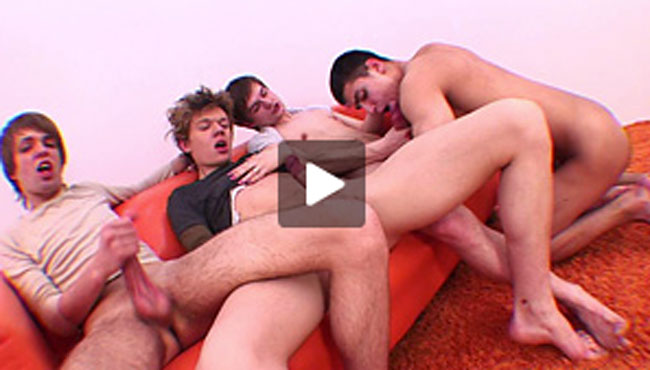 A look at the content
The design of BangedBoys shows how professional and highly talented the crew truly is. With so much ingenuity and creativity, they have produced the world's most talked about porn website; a place where simplicity remains the watchword at every turn. At BangedBoys, a passion for excellence meets awesome creativity to bring to our screens the ultimate fuck videos ever seen. And for the price of one, users are given four different and breathtaking websites of awesome quality. That is one bargain no one would want to miss out from. The site also gives members over 600 magnificent DVDs shot with the best cameras, edited by the best brains, and packed with masterful insights. Joining this site is simple; all it requires is an easy registration and checkout; and then you are in. the videos can be watched online or downloaded into mobile devices like smartphones or tablets. This gives for easy access and enjoyment, any time, anywhere.
Video and stars
Hot twinks and bareback lads make for special gay porn viewing. That is what this site offers. Only the finest, sexiest, and most adorable amateur lads are featured here. They have brought to the world their awesome sex shows and great bodies all for the price of next to nothing. Little wonder even women and other people with diverse sexual orientations all come here for nonstop fun. This is indeed the home for all of the best hardcore anal banging, cock sucking, and hand stroking dudes in the world. It's exclusive to BangedBoys only!
Final thoughts
Defining BangedBoys is simple. It's a site where lads are banged and where lads bang other lads. So easy and non-complicated. Such is everything on this site. It is fully automated and easy to navigate through. It is affordable, full of nonstop action, and comes with loads of bonuses and freebies. Why would you not join the site that all gay sites come to for inspiration and direction? BangedBoys is it!
"Website no longer updated! Take a look at the top gay adult sites."