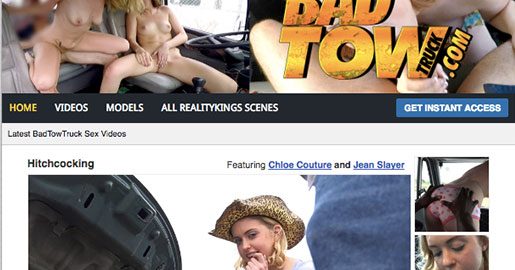 Never heard about Bad Tow Truck?
Introduction
What makes a porn site set apart from other is its uniqueness compared to the numerous sites out there. Let's face it. We all have our own fetishes that we are looking forward to seeing on a porn site. Remember how you get excited about girls getting playful with each other or with those role-playing you have had with that girl in your daydreams? Well, there is one specific fetish that I know many of us share– the "tow truck" fetish. Now, to my surprise, there is this one site that revolves on this particular fetish. So yes, some of it might be videos of real people while most of it are acted by the finest models. Seems like so steamy, isn't it? Well, it really is.
The site is called BadTowTruck. It is the place to be to fulfill those fetishes we keep deep inside. With its wide range of models and thousands of image and video content, there is one that is the right fit for you that's for sure. Those who are fond of the Reality Kings network will surely have a nice time checking out this site. Made available to the general public, Bad Tow Truck delivers hot content to all those who seek them. As part of the Nasty Dollars network, one of the largest company in the adult content market, it is easy to see why Bad Tow Truck is impressive.
It is at par with great porn sites such as CrazyCollegeGFs, Mike's Apartment, Milf Hunter, Dangerous Dong, Horny Birds, and many others that do not only showcase top notch adult content but also centers on the specific fetishes of the populace. Availing membership in BadTowTruck is easy, affordable, and flexible based on the duration you want. The site offers one-year, three-month, and monthly membership option, which rebills the user every month and a two-day trial option, which rebills the user until membership is terminated So if you feel the desire to be a member after seeing what is in this review, you can just choose these options.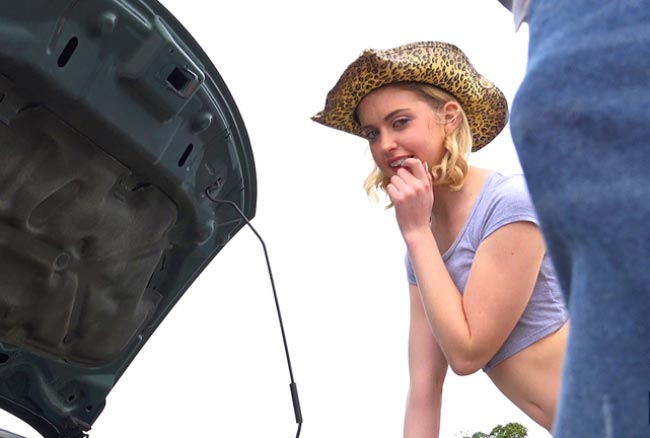 A look at the content
The banner that says "Can I Suck Your Dick Instead of Paying the Tow Fee?" immediately captured my attention the moment the page has loaded. Then, a quick-access button dominates the scene followed by a stream of thumbnails of video gallery, which contains steamy scenes. Take note, some of them already show women giving oral. Yummm! You see, Bad Tow Truck knows how to tease its audience. Who would not want to see how these ladies enjoyed sucking dicks and getting fucked? The next thing that my eyes focus on is its logo, which is a bit playful I believe. It goes with a text that goes "Bad Tow Truck" and a logo with a green truck towing a green car behind it. I love how it is designed. It is not that stiff but not so informal, either. Just the right blend of quirkiness for its own good.
The Bad Tow Truck site's appearance in terms of layout and design might seem so normal but since you saw the banner way before the general appearance, you are already hooked for your know what great content is waiting for you here. Women who are excited to satisfy their craving for a pounding, men who are more than willing to provide it, and the perfect moment to make it happen.
At the bottom part of the page, some information about tow trucks is given. It tells how tow truck business can be boring and dull but it is because of these sexy and hot clients that make it exciting. It also discusses hilarious incidents that can happen to tow truck drivers, the reason tow truck is worth calling for, and what tow truck owners should expect to deal with. A little bit informational and funny, isn't it?
Video and stars
Women at their most sexy and horny form. This is what you can expect to see in this porn site. The girls are truly amazing in bed and you will be delighted to watch some exciting close ups scenes of their pink pussies an tight ass holes. Although predominantly American and Latina, the site highlights its diversity on women' age. It is home to fresh chicks to milfs (40+). Given this, it is certain that you can find one that you will want yourself to fuck. Moreover, the models featured here vary in every scene.
There are some with large boobs, some less plump, some with shaved pussy, some with hairy ones, some are considered amateur, and some are veterans. All that anyone can ask for is surely here. It is just a matter of browsing and selecting. All of them are sexy, hot, and horny who will be happy to suck and get fucked. Most of the videos found in here have hardcore sex scenes that begin with oral of either the cock or the pussy. It will then be followed by the main show– the pounding of their pussies and asses and how they enjoy the service of their savior tow driver. It can be seen in these women's eyes how they are desperate to pleasure him and make him cum. Of course, downloading full-length content is only available to premium members but short clips are downloadable even for visitors.
Final thoughts
In summary, Bad Tow Truck is a heaven for guys like us who want to satisfy our inner desires. The thousands of mature content available on the site such as photographs and videos are made available to members and visitors alike. So, what are you waiting for? Check out this awesome porn site now and go see some steamy hot scenes!
"The site is offline. Check out the best public pay porn sites."
---
Read more…
| | | | |
| --- | --- | --- | --- |
| | | | |
| Trial |  $4.95 | N/A | N/A |
| Monthly |  $17.95 | N/A | N/A |
| Yearly |  $95.40 – $7.95 | N/A | N/A |
| | | | |