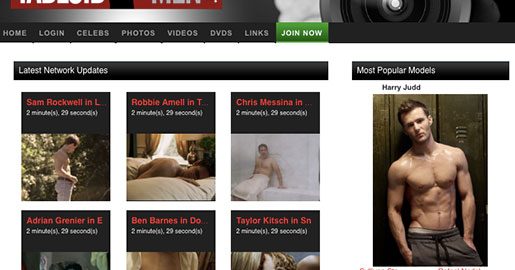 Never heard about TabloidMen?
Introduction
Celebrities are human they are no different from you or your neighbor. Well, except for a fact that they happen to look much better as they keep themselves fit and in shape. A lot of regular guys also keep themselves in shape, but why should you go nuts over these guys when you can simply drool over naked famous men. TabloidMen is a website that allows you to fantasize on men celebrities. The website gives you an opportunity to see clips from newspapers, Cable TV, photos gay celebrity disrobed and naked for everyone to see. This site has a good collection of celebrities flashing their bodies on films, holidays and more. Some of the stuff in this website you have probably seen before, but the majority of the content you have not seen before. There are many sites like TabloidMen, but this one stands out because of its site design.
The website layout allows you to get to the content you wish to see. This site has videos, DVDs, and photos of celebrities that you can access. The videos have a thumbnail so you can easily spot the celebs you want to fantasize. They also have upload dates to show you the most recent content. Members can also rate the content so others are aware if the videos or photos are worth seeing. Mania Media LLC operates TabloidMen and they created this website to provide you with news, movie reviews, information, photographs and updates on public figures activities. If you are looking for shocking photos or videos of your favorite celebrities and do not know where to find them. Visit this website as you can easily find the photos or videos of any men celebrities that have undress in front of the camera or public places.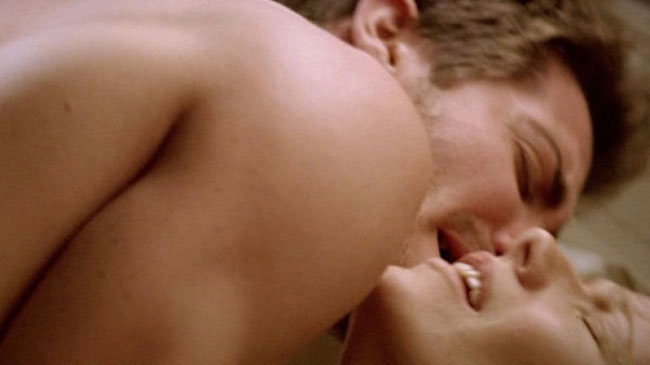 A look at the content
TabloidMen has a simple template design, not original but who cares when it get you to the content you want to see and get involved. That is right! The clean and simple layout allows you to navigate the entire website quickly. You can find the man of your dream without spending a lot of time browsing the site content. On the homepage is a menu listing the content of this site such as the Celebs, DVDs, Links, Videos, and Photos. In the Celebs section, the men are categories into four index the actors, models, musicians and athletes for easy searching. The Photos section contains features of celebrities like Chris Evans who have 80 photos and Matthew McConaughey.
The DVDs contains movies of the celebrities from horror to comedy to action, you will find the movies in which they have steamy or hot scenes. Take note, you can browse the DVDs by name or letter so it will only take a few seconds to get to where you want to see. As for the photos and Videos, you can browse the celebs hot scenes. For example, you can watch Adrian Grenier in Entourage, Jake Gyllenhaal shirtless video, and Mark Wahlberg nakedness in the Corruptor. In this website, the videos shown on thumbnail pages with their date of upload and rates. Yes! Members can rate the videos when they see it as it give other members idea about the quality of the content. You can also stream the videos in flash and the largest screen is at size 970 x480.
There are also videos clips that run as short as a few seconds or a minute, in which some comes from DVDs. About the photos, you will see some made-up images that are good and definitely horny. The photos open at decent sizes of 400x 600 and you can download them individually or run in slideshows. As for the quality, they are just fine and just like the videos you can also comment on the photos. Membership in TabloidMen comes with bonus or extras like access to a blog and feed websites such as Eurocreme, AlphaMales, and WorldOfMen. You will find these websites on the Links section. The added bonus should make your membership worth your money and time as you get to see real porn not just naked and semi-naked celebrities. TabloidMen regularly updates the content to give members fresh new pics and videos to watch. If you are looking for a men celebs photos or videos of their nakedness, check out this site as you are bound to find what you are looking for a decent price.
Video and stars
TabloidMen is offering you and anyone who wants to see clips or full videos of top gay celebrity sex actions, stars disrobed, naked men in films and celebs shocking photos. This website got the hottest videos of celebrities, which you may have seen before or have not seen yet. There are galleries of clips from DVDs of celebs and stars that you would want to see. The website has a lot of interesting names of famous guys, some you have never thought have shocking photos or videos just hidden from you.
There are also names of celebs that obviously have naked or semi-naked videos and photos. Some of these guys are Mark Wahlberg in the "Boogie Nights" and Channing Tatum in a stripper movies. You will also find clips of celebrity completely naked sunbathing in some beach. Yup! There are some dick sightings and occasional ass-flash that you have not seen before but now have the chance to see anytime you wish. Best of all, finding famous men are easy as the site listed their celebrity name. Some of the celebrity names you will find in this site are Justin Timberlake, Justin Bieber, Cuba Gooding Jr., Chris Evans and more.
Final thoughts
TabloidMen is a website with a decent amount of celebrities flashing their assholes and cocks in movies and public places. The website offers loads of naked and semi-naked famous men from DVDs and papers. They have stuff you may have seen before or probably have not seen yet but would want to see now.
This website got mix of exclusive and non-exclusive pics and videos with bonuses to video feeds from gay porn websites. At TabloidMen, you get quality and awesome content for a decent price. Check out the site if you want to have a bit of fun and access to real porn sites.