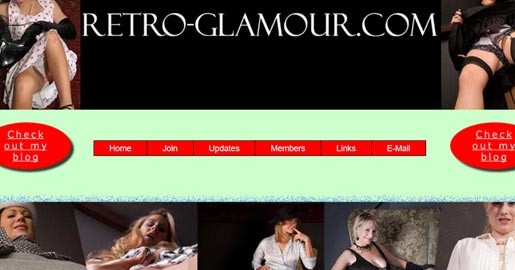 Never heard about Retro Glamour?
Introduction
Retro-glamour is a website that reveals elegantly dressed ladies as they are seen flashing their underwear, the site features dressed ladies flashing their knickers and often pull-asides to reveal the real deal. There are other scenes where they are seen half naked playing with themselves, using their fingers, gloves and sometimes sex toys. It's a site for people that don't like women completely naked but a rare combination of sophisticatedly clad women and the wild side of lust, passion and sex. The site majorly features MILFS who seem to be semi-professionals, the site content seem original as against entries submitted by amateurs.
The shots are well taken and the models look comfortable in their own skin as they reveal their wild lust. The site makes use of different types of quality and some shots are done in vintage format. Fortunately for visitors, there are no pops or unnecessary advertisements on the site. By joining the site, you get access to more photos and videos, and other features of girl-on-girl action, star-photo, and more girls playing with toys and themselves and occasional blowjobs. The site is regularly updated with new videos added on weekly basis.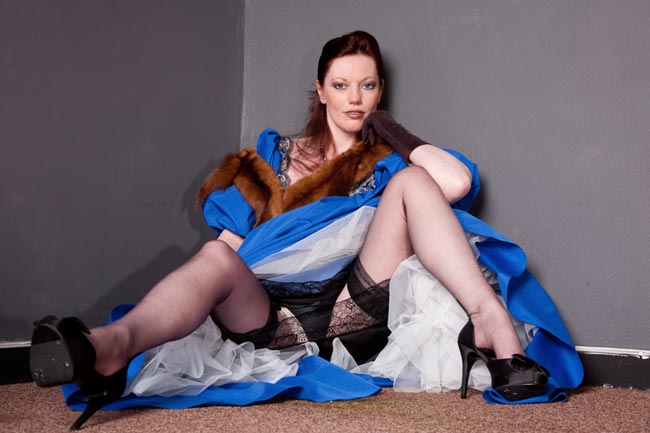 A look at the content
The website is laid out in simple and easy to navigate format, it features one constant header with its featured content; and below the featured header comes the about us page. The user interface is simple and straight to the point and should appeal to a wide range of audience. It is a standard website with menu tabs at the top of the homepage. Clicking on the different tabs will take you to different areas of the website. Once on the site, you will find a set of menus at the top of the page. These include tabs for updates and join now. The website homepage features thumbnails of women, showing their undies in a very provocative way.
By clicking on these thumbnails, you are presented with a larger size picture that you can save to your device if you so wish. The website is designed in a storybook fashion and you may have to read through some of the content to get the point that is being made. However, if you are patient enough to read the content and follow instructions, you will soon realise this is one fun website. If you really want to watch the fun videos and browse through the many pictures of women discretely revealing their undies, you will have to click on the join now tab to register as a member. The photo galleries feature models in their different poses and engagements, the pictures are clearly differentiated into different sections e.g. MILFS, Boobs, Ass etc. Fortunately for users, they can access this site on their mobile device without any problem.
Retro-glamour is in a rare niche that focuses mainly on the dressed women revealing their underwear and flashing some sensitive skin areas, they offer rare underskirt view and sometimes females playing either with one another, with sex toys or with their hands. The site offers this niche along with another genre of porn related content, and has an elaborate section that features ladies revealing their underpants and knickers, and their content is pulled in from amateurs the world over. Retro-glamour is focused on what they do with elegant women revealing their stuff, and that is their niche and they are focused on it, but they lack appeal which is mainly conveyed by aesthetic design and appropriate branding.
Video and stars
The girls are mainly models some are fresh and a majority of them are older ladies, MILFs (mothers I'll like to fuck). They are usually elegantly dressed, making the most of what ladies used to do in the years gone by. Some shots are taken in the living quarters of a home, others were taken outside and obscure environment. The models on the site range from age 22 to age 58. All models are true amateurs who love to pleasure themselves. They may not be your usual refined professional models that you find on regular porn websites but at least they are pretty and pleasant enough to be able to make any man have an erection.
Just from watching the way they pleasure themselves is enough to get any dick ooze jizz in no time. One thing is notable from the site which is the ladies look extremely comfortable in their skin doing what they do, from the flashing of their tits to revealing camel toes of their pussy; they all look happy in front of the camera. Most of the women seem happy and satisfied in front of the camera The website carries videos of women masturbating and reaching orgasm. These ladies can scream as they reach orgasm.
The videos feature fresh and new as well as older models. As such based on a member's preference, they can decide whether they want to watch a video with a fresher model or one with an older model. Fortunately, once you register as a member, you get the choice of either watching the different videos on the site online or downloading them straight to your computer. You don't only have to resign yourself to watching women revealing some skin; you can also watch them pleasuring their self. It will definitely turn you on.
Final thoughts
Retro-glamour is a website where you find women who are willing to let you sneak up their legs or down their blouses to have a glimpse of their pretty underwears. It is also a site where you will get loads of videos of women pleasuring themselves. Even if you didn't want to, you will find yourself having an orgasm in no time as you watch. With so much fun going on in this website, it will be hard for you to visit and leave without clicking the join button.