Never heard about PureAbuse?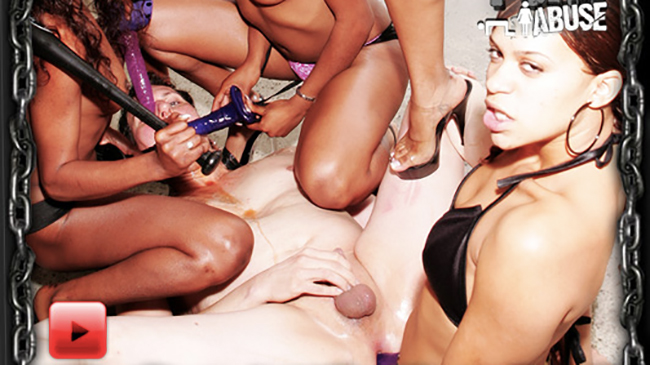 Introduction
PureAbuse is a top-rated femdom porn site brought to you by the MyAllAccessPass Network. The site features the kinkiest and naughty beauties dishing out real erotic femdom scenes to their men. This exquisite porn site also features a good quantity of strap-on and BDSM sex scenes. The well-hung studs on the site all relish the fact that the sluts are in charge. Different kinds of erotic reprimand are featured in the movies offered by the site, and the hot and horny dominant beauties just love erotically dominating their captive well-hung guys. You can count on getting quality videos, hi-res images and fresh updates when you join the site.
The highly loaded, easy to navigate site is a nice daily routine stop if you truly desire to get some xxx hardcore entertainment and enjoyment. The live shows and frequent updates it offers make it a premium site you will love to keep returning to over and over again. It is not a site for individuals that are faint hearted. The bossy but raunchy and horny sluts know exactly what they desire and they will most certainly instruct their subjects on the exact way they are expected to perform or else!
The site offers a lot of bonuses along with your membership, which include access to other member sites of the great MyAllAccessPass Network. Read this in-depth review to get the knowledge of all the features, which the site can offer you for your most exciting ejaculation experience.
A look at the content
PureAbuse, having being around for quite some time, is truly well organized. When you enter the site, the first thing you notice is a lengthy welcome note on the site's homepage that gives you a comprehensive idea of what the whole site is all about. The homepage also features reviews of some top sites of the network and some latest updates. Browsing network updates is so easy that all it requires is clicking the logo of network member sites since they are links.
Site updates come represented by thumbnails on the homepage but you can preview them before you decide to choose them still. You can browse images and videos on separate pages but those pages have no sorting or filtering features on them. Pagination on the wonderful site is truly excellent and since all contents including updates are organized, browsing all episodes and footages does not pose any problem at all.
You can stream or download videos from the site. You can save movies you intend watching later on to your 'favorites' page. You will be kept busy for quite some time by this site as it features a lot of bonus content. From the members' area, you can click links to the images area, movies and bonuses such as sites, dating, live cams and VOD areas. Movies can be downloaded in full or parts and at varying qualities depending on your connection speed and preferences. With every navigational feature in one location, getting around the site is quite easy. The left side of the homepage carries links to top photo shoots, hot news and bonus content. It also features a button for quick jumping to desired content if you are already conversant with the site. The miscellaneous grab bag, which features funny videos, VOD and pharmacy is also found on this left side with the live cam link below it.
The site features about 60 HD videos by itself and about 4500 from the entire network. It also features about 70 hi-res image sets with the entire network offering about 5500 through the site. The content has about 60 models for the site and 600 for the entire network featuring in them. You can stream the videos onto an embedded flash player at a resolution of up to 480p or download them in MP4 file format at a resolution of 480p. The image sets, which contain an average of 120 images each, can be downloaded as ZIP files. There is no download limit for all the content offered by the site.
Video and stars
PureAbuse is a quality porn site that is devoted to hardcore female domination porn videos that fans of the genre will truly love. Ass whipping, biting, strap-on fucking, nipple torment, caning and scratching are just some of the naughty erotic games you can expect to get from the site. Some of the sexy sluts are more intense in the degree to which they dole out these erotic castigations to their partners than others. This means you will surely get the amount of domination that is most perfect for your preferences on the site.
In addition to classic and popular domination techniques, the raunchy and nasty Dommes featured on the site provide you with some other varying types of erotically stimulating disgrace of their partners. These include feminization and balls being stepped on therefore you should be ready to see all kinds of scenes that are termed kinky. Although all the performers on the site appear just like amateurs, their scenes are acted and filmed so professionally that you don't get any shaky shots or crappy angles.
You get a lot of entertainment that is surely more than that for a rainy day on this wonderful website. If you are into the domination genre, then this is the site you should keep coming back to. The quality of domination content and domination models, and all the visual excitement and fun you will get here will surely see you carrying a rock hard erection around in your pants for a very long time. You should also remember to check out the dating part of the site to get all the horny and raunchy sluts in your area. You will be surprised by the number of sluts you have as neighbors when you do.
Final thoughts
PureAbuse is a pure adventure of a lot of latex and leather, BDSM and whips. The site offers the highest quality videos and images, and they are quite easily downloadable irrespective of the speed of your connection. The offered bonuses are also entertaining and exciting. You can also do quite a lot with the live cams and if you like VOD, then you cannot miss it here too. The site offers affordable entertainment you must join.