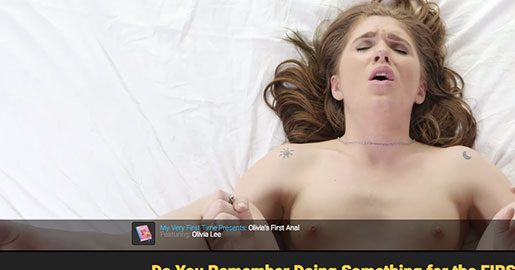 Never heard about MyVeryFirstTime?
Introduction
Every first in one's life is considered a milestone and will surely be unforgettable. Your first time to walk, first time to talk, your first crush, or even your first love. Of course, your first time having sex will be one of the most memorable. How can anyone forget the first time their pussy's being rimmed with a hard boner? Or your dick being cock sucked by the girl you had a crush on? Most of us will surely say; 'those were the good old days'. But there are some who would like to keep a lasting memory of this first and have it recorded on cam like the girls from this porn site called MyVeryFirstTime.
Yes fellow pervs, these ladies are very generous enough to show us how their first time was like. From fellatios to ass being gaped wide open by a hard cock, they'll let you see how it was done to them! This porn site's fairly new and they offer ultra HD videos that can be downloaded in different formats, frequent updates and a selection of the finest first timers!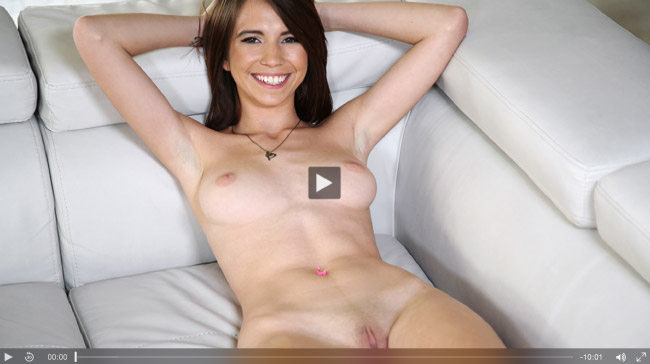 A look at the content
As soon as I was on the member's page, I was immediately welcomed by videos of spread eagled girls, all fine looking and ready for the taking! I also noticed that the layout's pretty simple and the color scheme's done in basic black. But of course we need to take into consideration that it's just a newly opened porn site so probably the web designers are still testing the waters and see how will it go for them. As of the moment, they now feature around 30 videos spanning 42 minutes each and can be downloaded in different formats like MPEG, MP4 or WMV.
They also promised that updates will be frequent as possible so expect new flicks and images from time to time. I tried clicking on one of their 4k ultra HD videos and I must say, it's beyond my expectations. I also attempted to download it but the estimated download time for me will be around 5 hours to complete so I backed out.
Video and stars
Got the chance to watch this great video, the girl's name was Kim Costa. Innocent looking girl and looks kinda nerdy complete with glasses and all. It says on the title that this video will be her first anal. Just like most of the amateur videos, there's the usual banter interview that lasted about 3-4 minutes I guess. She was asked if she had ever tried playing with anal toys and replied no, and she said that she hopes that this experience will 'go down smoothly'. The video then jumped to the scene where she's taking her clothes off including her undies. She was made to turn around to capture all her naked glory.
She sat for a bit, then this dude showed up from nowhere holding a bottle of what I believe is a lubricant for her ass and a vibrator. After a short chit chat with her male 'performer', the guy went on to it beginning with her erect boobies. The guy licked her erect puffy nipples which she kinda likes as she was seen biting her lips while the guy's doing that. She was then made to do a doggy pose with her facing the backrest of the couch. She automatically spread her legs a bit farther apart so that her tight back end will be visible on cam. The guy did a fine work munching up her ass while his finger's busy coming in and out of her shaven twat. Afterwards, the dude applied some lubricant on her rear and slowly inserted his middle finger up her ass. The screen was split in two which shows her facial reaction on the left and her ass being finger fucked on the right.
She irked for a bit at first but still managed to smile. The guy then inserted the vibrator inside her already moistened twat and continued finger fucking her ass. The girl can no longer control the sensation and squirted all out her cum. She can be heard asking if that was her who came and laughed and got a bit embarrassed when she found out she was. Afterwards, the guy replaced the vibrator with a dildo and stuck it gradually inside her rear. You can even hear her moan as her ass was stretched and rimmed pretty good for the first time. As soon as the guy knew that the girl was ready for her first anal, the muscular dude positioned himself and took aim. Slowly, he shoved his long hard boner inside the girl's ass which made her moans louder that it echoed across the room. As soon as the girl's ass received every inch of his johnson, he began banging her in an increasing pace which made her moans even louder as it went faster and faster. It went on for several minutes before they changed to another position. Finally, they were seen with Kim doing a reverse cowgirl in a seated manner with her hands holding both shoulders of the male performer. A few more thrusts and it jumped to the scene where Kim was seen kneeling in front of the guy about to receive its white creamy cum.
Final thoughts
I must say considering that it's just been around for several months, this porn site really is promising and I bravely predict that it will make waves in the world of porn in no time. It's actually my first time to encounter porn videos offered in ultra HD and it will definitely leave you in visual awe. But be reminded that with videos with this caliber would require longer downloading time which is all worth it. Ladies are fine and handpicked and really are sights to behold when they're in action. This site is awesome and very very much recommended! Well done!

---
Read more…
| | | | |
| --- | --- | --- | --- |
| | | | |
| Trial |  $1.00 | $1.00 |  $1.00 |
| Monthly |  N/A |  $29.95 |  N/A |
| Yearly |  N/A | $119.40 – $9.95/Mo. |  N/A |
| | | | |