Never heard about Model-Eve?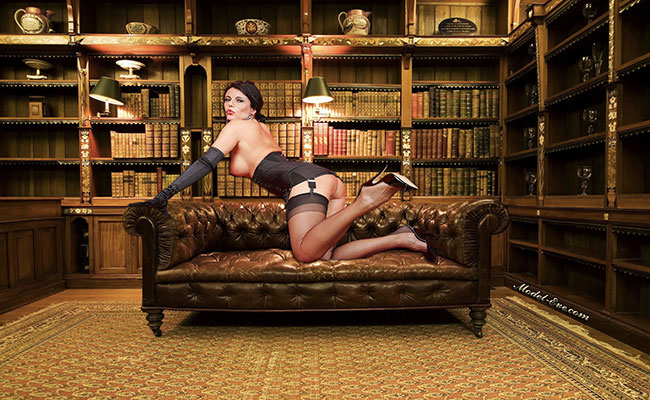 Introduction
Model-Eve is a top solo model porn site that is the official website of the stunning and stylish Italian model who is a specialist of stockings, nylons, and tights in her numerous videos and image sets. The exclusive content she offers sees her modeling the styles of bygone decades in vintage hosiery and lingerie while heating your computer up by remaining one among the sexiest, hottest and raunchiest models around all this while. This is indeed, a truly high caliber of vintage naughtiness. Just try taking yourself back in time and it is sure that you will certainly discover that the soul of this naughty mature model is fully coming at you.
It appears as if the hot and horny lady has a true love for years gone by, hence the reason why it is where she has discovered her most powerful calling to her sexuality. Though you hardly expect hardcore sex from the amazing model, you can definitely expect the most intense pleasing and teasing in the area of playing dress up for desire via live chat, videos, and images. The lady is so good at what she does that you won't even last more than a few minutes before you begin to ejaculate into your pants. She will tease you so that you will have no thoughts other than that of joining her site. But you should take the time to read this detailed review of the site first.
A look at the content
The presentation and navigation of Model-Eve's members' area is a primary reflection of the sites tour area. On landing on the page, you first get the welcome message and the 'what's new' link button and so on. From there you get a navigational link that is truly easy to use and lists areas of the website you might desire to go to. The colors of the site's color scheme are kept to shades that are dusty, which surely is a nice touch, ensuring that nothing comes on as flashy but everything does make its own statement. The site has this feminine glow to it, which is a feature that plays nicely in favor of what the site owner is trying to project. The contents are broken down into categories like pantyhose, lesbian, nylon and so on. For the featured advertising shots, the lady is certainly a commodity that is truly hot when it comes to having a hot and sexy body and knowing how to make love to a recording camera with it.
The site features about 200 quality porn video scenes that can be downloaded in WMV file format with 2GB daily download limits. The highest resolution at which the clips can be downloaded is at 1280 x 720 @ 2600 kbps. There are also about 200 image galleries offered by the site for your enjoyment and entertainment. The images can be downloaded as ZIP files. You can also view the hi-res images as full screen images. All the content offered by the site is fully exclusive. You can also stream the clips onto a flash player that is embedded on the site to watch the online. The download peed for streaming the content is indeed very fast. Some the older videos though, do not come with the HD quality but some of the newest additions eve come in full HD.
Video and stars
Model-Eve features Eve and some other models in some of the most sexually arousing performances that surely leave with pre-cum fully wetting the front of your pants. The owner of the site is a true and fabulous horny model. She surely knows how to kit herself out with some of the outrageously sexy stuff you have ever seen, though any attire a model wears can only be as sexy as the model wearing the attire. The fact that all the varying items being shown on the site always appear awesome should provide you with a massive hint of the extent of her beauty. Some of Eve's friends also record content for the website. They also contribute content to make the site as thick as it can be. Though the site might appear to lack variety since it is a solo model's website, with this site is just the opposite. The German/Italian model seems to cherish posing in sexy attires and offering a lot of nylon fetish materials.
The video scenes offered on the site feature pantyhose, garters, nylons, stocking and so on. The hot and raunchy model also does a little latex and several other kinds of stuff that is quite kinky like high heels. There was even one male/female foot job that was discovered while searching the site's content. The video clips all have this beautiful richness with which they play. The clarity is not damaged even if you enlarge the clips to full screen while watching. This just makes for some truly nice presentation.
Some of Eve's friends like has been mentioned contributed to the site too. Aside from the females and males that join in performing within her sets, they also feature some of their own content as galleries. You will discover that there are about 70 delight ditties from Eve's bosom friends that also have the same sexiness and sleekness to them. Just like the site's intro promises, there is an area that is dedicated to a live cam show.
Her schedule for the show is becoming truly regular and all that at no extra cost whatsoever to members. The only charges you might like to consider as extra is that for one-on-one show time spent with any of the other girls that will be included via the site's live chat choices and options. In fact, the pricing for this site is truly user friendly. Another great feature in that area is that the cost of getting admitted drops immediately after your first month after registration.
365 DAY ACCESS

$

99.00 –

$

8.25/Mo.
Final thoughts
Model-Eve is an essential website for all lovers of classic retro lingerie and hosiery. If you are also among people that relish European models, then you have probably just found a perfect site for you. A truly meaty collection of fully exclusive content immensely aids this site. So, it is a site you must join to get your erotic juices flowing.