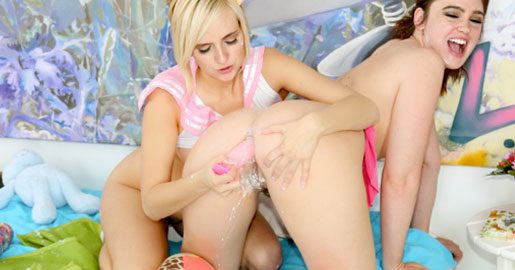 Never heard about Milk Enema?
Introduction
Milk Enema is a website created by the delightfully dirty mind of director Jay Sin and is part of the Evil Angel Network. Just in case the name wasn't enough of a giveaway, this particular website is all about butt stuff, and very specific butt stuff that pertaining to a very specific fetish.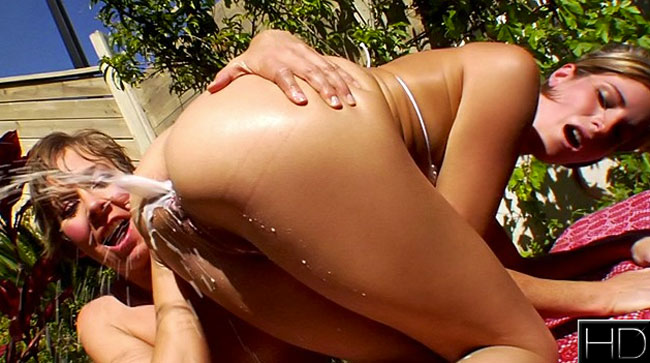 A look at the content
Milk Enema has a great design, it's fun and a little bit quirky, even playful in a way. The site has a plain white background with subtle graphics with snippets from some of the videos that really plays in very well with the milk theme, which is the central focus of all the videos on the website. Well, that and whipped cream. This website caters to a very particular fetish and the entire design and layout of the Milk Enema website are designed specifically to underline that fact. The Milk Enema website dates back to 2010 and seems to have gone through a period of hibernation a few years ago, and currently does not have a huge amount of content because of it but the content that it does have is of amazing quality. All the videos are date stamped with the time when they were added on to the website and there is an obvious period where the website did not upload a lot of content, however in recent times they have come back swinging with loads of brand new videos. Milk Enema has a really great mobile website as well, which makes it really easy to use on the go and which guarantees that all the content will show up in great quality, but frankly it would be hard not to, since all the content is shot in amazing high definition quality that allows you to see every single drop of milk that shoots out of these girls' assholes and where it lands.
Video and stars
All the websites are about the same thing. One or more girls getting their delicious asses filled up to the breaking point with milk or sometimes whipped cream then shooting it out for your viewing pleasure, sometimes onto another girl who then laps it up and if that wasn't kinky enough for you and you want even more hardcore anal action, then don't worry because they have also thrown some guys into the mix, all armed with big, juicy, throbbing cocks that really make those assholes gape. As we previously mentioned, the collection is not huge at the moment, because of the website's period of dormancy, however for anyone with this fetish it is definitely enough to keep you busy for quite some time while you visually devour all the delectable videos and pictures that are currently on offer. Right now, there are over 85 videos, each around 40 minutes long and they can all be downloaded unlimitedly by members of the Milk Enema website as well as around 65 galleries of 200 or so pictures each, also available for download. Another great feature of the site is that members of the Milk Enema website also get access to about 20 or so other websites in the Evil Angel network, which is an obvious plus.
Final thoughts
Milk Enema is an absolute go-to site for anyone with a dairy fetish, an anal obsession or an eye for enemas because it magically combines all three. An absolute must-see for any enthusiast of the genre.
"Website no longer updated, take a look at the greatest hardcore premium adult sites!"