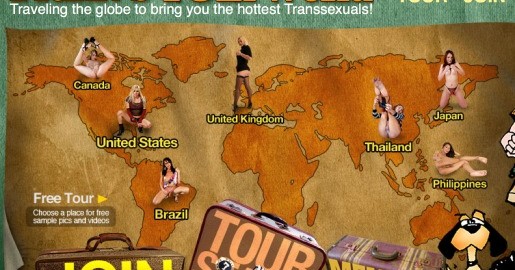 Never heard about Frank's Tgirl World?
Introduction
Did you ever want to travel the world and see all of its sights, and explore the best that it has to offer? Of course you have, but what about doing it in a really kinky way, in order to take videos and photos of some of the kinkiest tgirls all over the world? Well, that is what Frank does, so go on over to Franks-TgirlWorld and you will see a lot of great photos and videos, ones that are surely to stir up your imagination.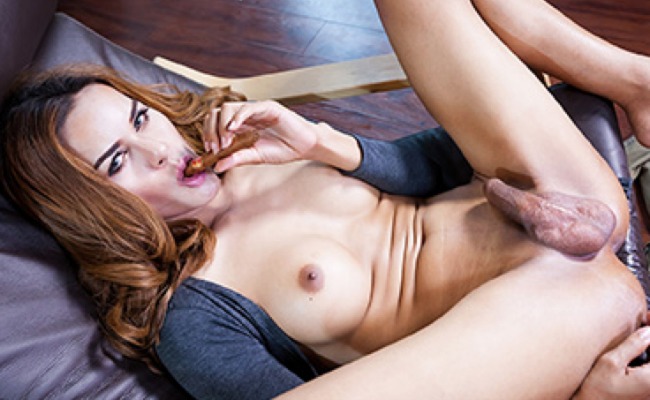 A look at the content
I love the fact that Frank is a photographer, as that reflects the design of his site, greatly, actually. Right from the first moment, you can see that it was done by someone with great taste. Why, well, because the site has a map on the top side of the page, and has Frank with his camera, illustrated, as well as his dog. And on that map, you have tgirls from all over the world, with their legs spread or not. The site is done in a nice emerald green color, and below that map, you have a lot of previews, an about me section written by Frank himself, and descriptions of those previews, there to summarize them.
What I also liked is that the site is organized, to be expected of someone of Frank's stature, and you can search and find the videos and photos easily, as they are sorted. The site also runs really smoothly, having no lag, and allowing you to browse from wherever you like, whether that is the comfort of your chair, or anywhere else in the world where you have access to the internet, due to good optimization.
Video and stars
Frank loves making videos with them fucking, and he loves seeing that sex take place between two trigls. That makes for a nice image, especially in the HD resolution that Frank always has in his videos, being a photographer himself, he of course, prefers for the videos to be with a clear image and great in detail. The level of detail can be seen in the photos, too, and the attention given to the special areas of the tgirls, specifically, their tits and dicks, and their asses, of course, even more so when they are getting plowed by other males or tgirls. Now, Frank is an active person, and when he decides that it is time to do something, he indeed proceeds to do so, and that is why he takes place in the videos, getting to fuck the girls, and doing it so that we would enjoy some POV action.
Oh, he loves getting downright and dirty with them, which makes for an even better video than the ones where the tgirls are by themselves. Frank is great company, and you can tell by all the orgasms that the tgirls have, cum flying everywhere. Frank loves it and he is willing to go all the way. And since Frank is a generous person, he made all the photos and the videos available for downloading, the photos in a zip file, and the videos in an MP4 format.
Final thoughts
What I love about Frank's site is the fact that it comes with so many perks, ones that you will certainly love to see, and you can, if you go and see the previews, and for the sake of getting great content for yourself, you can join, and pay homage to Frank's crusade to find the best tgirls all over the world and take their photos, all there to see on Franks-TgirlsWorld.

---
Read more…
| | | | |
| --- | --- | --- | --- |
| | [LINKABLE IMAGE REVIEW SITE 1] | [LINKABLE IMAGE REVIEW SITE 2] | [LINKABLE IMAGE REVIEW SITE 3] |
| Trial | | | |
| Monthly | | | |
| Yearly | | | |
| | | | |