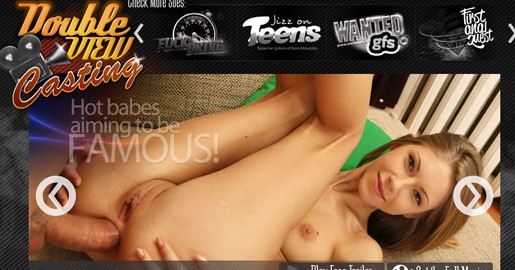 Never heard about Double View Casting?
Introduction
I like to be in control, to be the master of my own destiny. Double View Casting goes some way to letting me do that, whilst watching porn. The site uses a unique setup that provides 2 camera streams of every scene, which viewers are able to switch between at the click of a button. One view may be a close head-cam position, while the other is a wide angle shot from further away.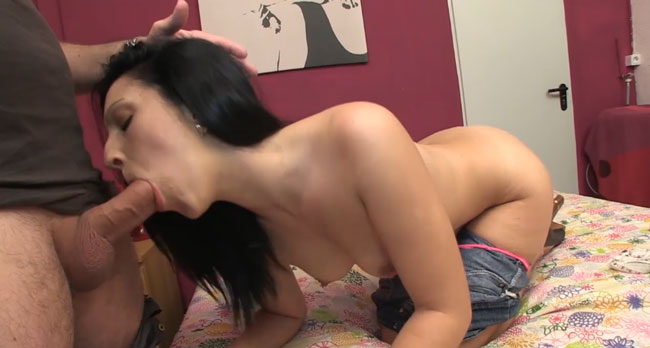 A look at the content
There is a lot going on all over this page: Videos, previews, sign-ups, model information, scene tags. It is pretty full on. There is a grey scale backdrop with some extra orange and green to keep things lively. Content is the center piece of the page, with everything pointing the visitor towards it. All the pages have a demo video collection at the top, above the rest of the page, then thumbnails for scenes and also a catalogue of models featured on the site. Even though it is very busy, the site still remains clear and presents information about each scene, including the actress and the tags associated with it. Navigation is split between pages for scenes, models, members and signing up with the site. If found the site to load very quickly and even with videos buffering each time you load a page the speed manages to stay high.
I do not recommend trying to use the site with a mobile device as it is not very reliable, I was unable to get any video content to load on my phone or tablet. Though I was using the Google Chrome browser, there may be greater success in other browser types.
Video and stars
I was distracted whilst writing this review. The quality of girls that are featured and the dirtiness of the scenes was just a bit too much for me. The girls are generally a mixture of stunning and cute, ranging from slender frame to true natural curves. They are also mostly Russian or Eastern European looking, with some Asian and redheads added to the mix as well. The site is currently rolling out the Double View Casting system for First Anal Quest, so the site is mainly focused on anal, but there is also a lot of facials and foreplay involved. The scenes are all very hot and steamy, with the girls really working the camera, and their male accomplices.
Recording has clearly been rigorously monitored and arranged as the scenes are all of excellent quality, making the most of the Double View system in HD, getting nice and close in POV angles as well as a wider shot of the action, which can be switched to with just a button click. The sound design, direction and effort from the cast and crew are all excellent and really shows through in the videos. There are multiple download formats for each video and an accompanying trailer and photo shoot for each scene. The download video format is MP4.
Right now the site has an up to date counter showing the number of videos and it sits at 417. There are also 279 girls featured on the site and around 400GB of media content. This vast collection is available in 1 monthly or 3 monthly plans, which also include bonus access to a range of other niche sites.
Final thoughts
I feel like Double View Casting has got a really unique product here. Allowing more interactivity to porn is the way forward and even though this is only a little, simple step, it is still a step in the right direction, exhibiting beautiful women, loving getting fucked in the ass.

---
Read more…
| | | | |
| --- | --- | --- | --- |
| | [LINKABLE IMAGE REVIEW SITE 1] | [LINKABLE IMAGE REVIEW SITE 2] | [LINKABLE IMAGE REVIEW SITE 3] |
| Trial | | | |
| Monthly | | | |
| Yearly | | | |
| | | | |