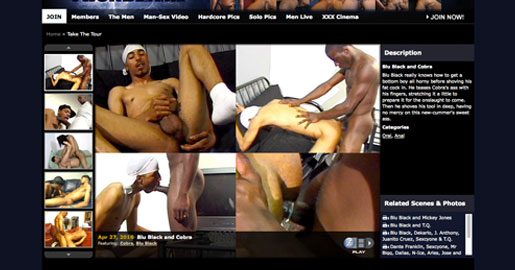 Never heard about Dark Thunder?
Introduction
If it's black to black male and gay action is what you are long for, then Darkthunder will give a dark thunder bolt on your boring sex life. This website caters to fetishists that undoubtedly turned on by black mamba actions and guys deeply penetrating each other with their large phalluses. This site will give you a spectacular and all exclusive view of what's happening in the wonderful world of black male sex extravaganza.
Expect for tons of black on black hardcore sex that involves huge and hard ebony cock sucking, deep throat penetrating, anal sex and many more videos and pictures. They have an impressive set of the gallery that promises hardcore male sex in all positions imaginable.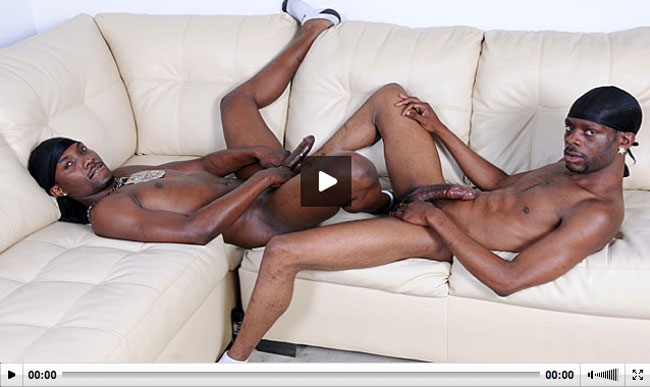 A look at the content
The website is very easy to navigate and use with all its features strategically laid out properly for you to see. At the default page of the site, you can see a video of guy stark naked and making demonstrations. Just a sort of a short teaser to stay you wanting for more of what they got. The homepage is regularly updated and brings you the hottest and most recent videos they have. Their recent updates are located at the front row so you can see them automatically as you enter the site. At the top of the page, you can right away see the menus that will bring you to its features
The bonus sites can be seen on the menu as well and the model index, videos and much more. The background has a dark cover with thunders and some pictures stark naked guys at the sides. There are is a large picture at the default page with several medium sized pictures at the left side of the screen showing other guys doing sex. There is also a description at the right side of the large picture just in case you want to know what's going on, though it's obviously some hardcore male to male sex. They would actually feature newbies at the front page and give a description of the guys involved. It's like a sort of initiation for becoming a part of the Darkthunder family.
There are several options in their menus such as how to join, the men index, man-sex videos, hardcore pictures, solo pictures, men live (which is their version of live cam), and XXX cinema. There are three buttons in the site actually that will lead you to how to become a member of the site. At the bottom part of the large picture at the default page is the date when it is updated and who uploaded the video. You can also see tags below it that will lead you to similar or relevant videos and picture galleries. To aid your search of the hottest male to male action, you can sort either by most recent or top rated videos.
At the right side, you can click or choose a bonus site featured in the network. It's like having two websites in one. You can actually explore either of the two and still give you the same dick sucking and cum swallowing actions you want. For your convenience, you can also select a category you want. It is located just at the left side of the screen. They have anal, bareback, big dick, group, interracial, jock Strap, muscle, oral, outdoors, rimming, solo and threesome. Below the category list is the update for the recent videos they have and a short description just in case you want to check out what's going on.
As a member, you are guaranteed exclusivity to the spectacular videos in their collection. As of 2008, they already have a total of 169 videos just waiting for you to stream and download. Each of the videos takes 20 minutes long. The videos can be downloaded full and comes in multiple bandwidths. You may download it flash media player format and windows media player, with no hassles and restrictions whatsoever. They also have 293 galleries with 100 pictures each and you can upload them in high quality resolution.
Video and stars
Darkthunder would surely satisfy your craving for male black meat with its exclusive male to male action. Good quality production is guaranteed in each video they upload. These guys are tough and hung and drive real hardcore sex in all the filming production. They have great storylines aside from the pure sucking and fucking each other scenes, and the cum shots all over the place, which is the best part really in the videos. You may choose a lot of scenarios like for example bring some old hairy guys with smooth and lean fresher guys but still all black.
You can see some serious and genuine pleasure going on in every sex scene they have with each other. The scenes can be outdoors, indoors, and involves different types of guys, shaved, bald, long-haired, but one factor that holds them together is that they are all black, though the bonus site has an interracial male to male sex scenes too. There are guys sucking each other cocks, and because it's male to male, they surely know how to pleasure each other's hard ebony cocks.
Hard and hunky guys getting mean on each other and penetrating deeper and deeper until they both reach orgasms. There is no other website you can find real dudes genuinely lovin' hardcore sucking and fucking but guys in Darkthunder.
Final thoughts
So, if you are looking for a site that will satisfy your peculiar sexual pleasure of seeing the male to male hardcore ebony sex, you definitely landed in the right place my dear. If you have a thing for black guys loving and drilling each other's butt, and doing deep throat sucking, then Darkthunder have it all for you and more.