Never heard about Jizz On My Gf?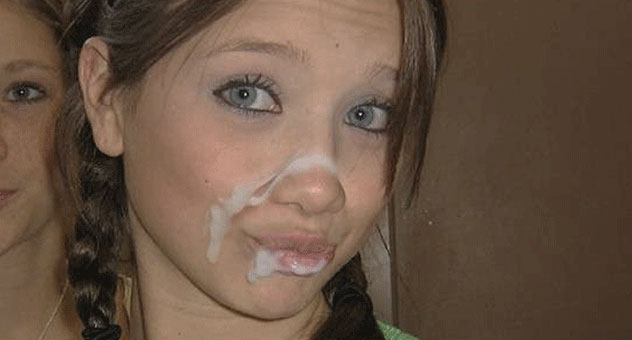 Introduction
One of the best facial porn sites, Jizz on my GF features amateur porn actresses with the love for facials. These facials are not the typical service that you can get from a salon but it still brings the same effect to these horny ladies in Jizz on my GF. You will see how they work hard on every facial porn scene just to get cumshots on their body.
A look at the content
Launched in 2008, Jizz on my GF has an outdated website design. However, if you look closely you will notice that the basic functionalities of the site are up to date. The site presents itself in the simplest form but with a lineup of convenient and user-friendly tools to make the site work in its best potential. The site is not only accessible and fast in your desktop computers but it is also performing similarly in your mobile devices. Android or iOS users can gain access to it without limitations. Take caution when you land on the homepage though because you will surely be surprised with the collection of images that will show before you eyes.
A wide range of erotic and sensual images will make you feel hotter and horny in no time. But before that, you should also take time to notice the flawless navigation of the site. It is very easy to use and it helps you access the site quickly and smoothly. The collection of the site is pretty huge. You can get over a thousand videos- 3000 to be exact and photos that are running close to a thousand. The site updates regularly so in no time, this number will soon be higher. There are also a wide variety of models here considering that the site uploads user submitted facial porn videos. The video section of the site looks neat with all these well-organized video thumbnails.
You will either see girls with cumshots on their body or a closeup picture of their pussy dripping with cum. If you click on these inviting thumbnails, you will be redirected to a page, which contains the site's flash player that is big enough to enjoy these 480p homemade videos. The site player, although it is not as fancy-looking as other players, it still can allow users to jump ahead of the video without loading the entire video. It also has a smooth playback quality. Moreover, if you want to download these homemade videos and watch them in the comforts of your home anytime, the videos are available in mp4 format.
The photos also have the same quality as the videos. They are also homemade and user submitted but with the aid of the photo gallery of the site, the photos are presented decently. The photos can also be downloaded and if you want to download multiple images at once, you can try the zip file download option of the site. Common between the photo and videos section, user can also interact through the rating system and comment boxes. They can also keep track of a specific video and get back to it at a later time by marking it as favorite.
3000 videos and 900 image galleries can be quite intimidating most especially if the site does not have a proper tool to organize these contents. Good thing is, Jizz on my GF has several sorting options and a search bar to give the users an option how to handle the large collection that the site has. Tags are also available, which show which videos are related to the other.
Aside from the massive collection, the site membership also includes 20 sites from Amaland network. These sites are also girlfriend themed site like Jizz on my GF. Some of them are: Bukkake Porn, My Alternative GF, Watch My GF, Facial Cum Tube, My Asian GF, My Ebony GF, Me And My Latina, GF Melons, My GF Loves, Anal Oral Girlfriends, Cumshot.dk, GFOrgasms, MyLesboGF, MyPOVGF, Dirty Wives, PornMaki, Cumshot Videos, The GF network and ExGf Videos.
Video and stars
There are over a thousand girls in the models index but unfortunately most of them are difficult to name because these girls are not directly connected to Jizz on my GF. We can only enjoy their videos as long as we please.
Based on their appearance, most girls have the American beauty. Most of them also have a white complexion. The girls are all amateur based on their looks and performance. Despite that, they all showed an exemplary skill when it comes to pleasing their partners. I am pretty sure the viewers also had their fair share of satisfaction just by merely watching these videos. As expected, the quality of videos is just okay.
The scenes vary, which gives us plenty of options when it comes to facials. And these exciting scenes are initiated by these horny sluts with their desire to bathe in warm load. They do handjobs, blowjobs and even sex just to make their man cum on them. Sometimes they point the throbbing dick to their faces, to their belly, to their breasts, to their back or even inside their pussy. Some even swallow the cum without hesitations. It's also surprising how these male actors can release such amount of load that almost glazed the pretty faces of those girls. Overall, the scenes will all make us wet and horny.
Final thoughts
The level of amateur porn in Jizz on my GF is extraordinary. The submissions are definitely a great bunch of homemade porn. These rising starlets are pretty and blessed with high sex appeal that you surely can't resist these videos. The schedule of the site's updates is also impressive. With such consistency, the members will never run out of videos to watch. The bonus sites are also something that I am eager to explore. There are definitely a bunch of girlfriend themed sites that looks interesting to me. If we add everything, the number of videos will be really massive! How does that sound?
"The website is no longer updated, visit our collection of the best girlfriend pay porn sites!"
---
Read more…
| | | | |
| --- | --- | --- | --- |
| | | | |
| Trial |  $1.00 | $1.00 | $1.00 |
| Monthly | $27.95 |  $27.95 | $27.95 |
| Yearly | N/A | N/A | N/A |
| | | | |