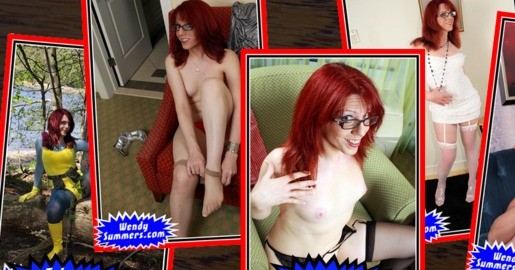 Never heard about Wendy Summers?
Introduction
Wendysummers is the website of transsexual porn star Wendy Summers. If you're into shemale erotica action, then Wendy Summers really needs no introduction. In 2013, she's been nominated at the Rabbits Reviews Rise Awards in the category for best shemale performer. Wendy is a fun and naughty transsexual redhead that loves what she's doing and her website reflects that.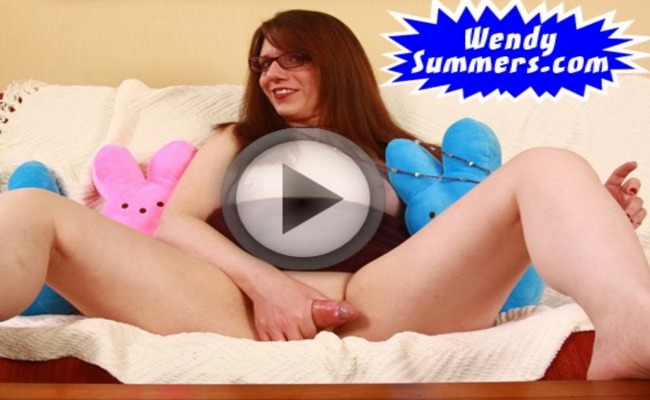 A look at the content
The website has a gray layout and a real comic book action hero feel to it, because Wendy Summers is a nerdy shemale and really takes pride in that. On the top of the page you get several buttons directing you to where you need to go, like the members' area and the link to the free tour. On the left side of the homepage you get a presentation written by Wendy Summers herself, making a very convincing case for why you should become a member. Unlike other transsexual porn websites, this website doesn't look back at all, but actually looks fun and very easy to use. Another feature that differentiates the site from its counterparts is a banner at the bottom of the page that directs you to wendytgnextdoor, the official fan club of the sexy shemale redhead. You can visit the fan club website for free. Like the slogan says, the website really embodies the feeling of "come for the personality, stay for the porn". The tour is pretty standard, offering an exclusive peek into the updates posted on the website. There are about two or three updates per page, with large photos of screenshots of her videos.
Video and stars
Wendysummers is about Wendy Summers. Her infectious fun and friendly personality comes across perfectly from the content uploaded. Wendy really is the transgender next door type and her nerdy hobbies are truly endearing for everyone. You can't help but smile while reading her presentation: this shemale loves puns, cosplay and role playing, she loves dressing up in silly costumes and getting down and dirty. Wendy Summers started out as a webcam model, so she is used to getting up close and personal with lovers of this category of porn. Wendysummers is a really light-hearted website, that doesn't like to take itself very seriously, but it contains amazing fun and nerdy photo sets, produced in a creative way. It contains high-quality photo sets and videos and the list of things Wendy Summers does on camera goes on and on. She boasts of making every fantasy you have come to life and likes using toys and other props in her scenes. So, even if you're into transgender porn or have another fetish, there's a good chance Wendy Summers will be there to satisfy your needs. Summers is a hard working transsexual model that loves one on one interaction with her fans: you can ask her to do certain things that would please you and she will probably do them so if you're looking for a "girlfriend experience" or just some dirty, hot transgender porn, Wendy Summers is happy to comply. The wendysummers website offers a lot of benefits, such as exclusive first looks at new content, an archive of some of her early amateur videos, weekly updates and something new: iFriends video chat sessions, which are exactly what it looks. Wendy Summers loves video chat and even offers her loyal fans discounts for these sessions. The shemale porn star is also very active on social media, especially Twitter, so you can really feel like you are getting to know her better by becoming a member. Wendy Summers really knows how to market herself and overall the videos and photos are really fun.
Final thoughts
Wendysummers has a really non-expensive subscription for the amount of pure, nerdy fun the website brings you. If you're looking to see one of the best shemale performers in action, but especially if you have a geeky, dirty side to you, wendysummers will make you feel right at home.